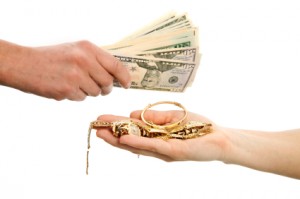 Although our primary clientele are other businesses, we buy gold from the public as well.
Whether you are a flea market vendor, yard-saler, or just have some personal jewelry you want to liquidate, Orlando Gold Refinery can help. We started out where you are now, and we're always happy to lend a helping hand in getting you the best price for your precious metals and diamonds.
We Buy Gold? What Else Do You Buy?
We buy all manner of materials composed of precious metals (gold, silver, platinum, palladium) and diamonds, including:
Scrap gold and silver jewelry
Estate jewelry
Coins and bullion
Fine watches
High carat diamonds and precious stones, mounted or loose
Loose melee diamonds
How Do I Sell My Gold to Orlando Gold Refinery?
If you have a second-hand dealer's license, secondary metals recycler's license, or pawn broker's license, please fill out the Patriot Act Compliance form. Otherwise, just bring in a state-issued ID or driver's license along with the material you would like to sell.
How Much Will I Get Paid for My Gold and Other Items?
If you are not licensed for trade, we generally buy your gold at 80-85% of the current spot price based on live market prices. Diamond prices are based on color, cut, carat, and clarity.
I Have a Lot of Gold – Can You Pay Me More?
We will work to get you the highest payout possible. Without a business license we can't pay you as much as our b2b clients because we are legally required to hold items for a certain period of time, making us susceptible to uncertain swings in market prices. But rest assured, you will still be getting the best prices possible.
Are There Any Fees for Scrapping Gold?
Most refineries charge fees for assays and a host of other miscellaneous services. We don't. We will evaluate your materials, give you a price, and you are free to sell the items or not. In fact we encourage individuals to shop around (there are plenty of other gold buyers in the area) so you can be sure that you are getting the best price with us.